DOG TRAINING IN ONTARIO CANADA
WE offer training for all breeds in basic and advanced obedience for all breeds of dogs in Ontario Canada. We have great results and problem solving skills for our clients that are faced with misbehaved dogs. We help rehabilitate owners with their dogs and help them get a better understanding of their best friend.
PROTECTION DOG TRAINING IN ONTARIO CANADA
WE also offer protection dogs for sale to select clients and train dogs for protection work. Please call us or email us for more details on purchasing your best friend and protector.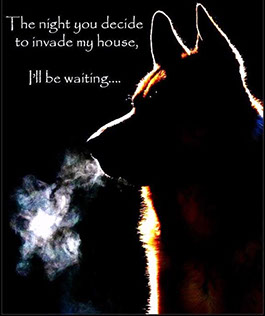 Above is the video of our super male VA1 Bobo von Arlett CA. This male shows a perfect excercise of bitework at the German Sieger Show the biggest stage for German Shepherds in the world.
We train dogs to become effective home protectors and not just your companion and best friend. Our methods are recognized and proven as we have clients worldwide who utilize our services and purchase high level personal protection dogs from us. We offer an array of training services from general obedience training for all breeds of dogs to specialized protection training which is very demand specific for our clients and the dogs are custom trained to follow the exact directions set forth by our clients.
At Vom Wofenhaus
The bar has been raised,
and "Exceptional" is the Standard.